College and University Bus Rentals
Whether you're a part of a private college in NYC or a Greek life coordinator in a Los Angeles school, your college, university, or campus organization can benefit from an easy and efficient transportation plan for your campus commuters and residents.
Keep reading to learn how Shofur can keep all corners of your campus connected with custom shuttle bus routes. And whenever you're ready, give us a call at 1-800-436-8719. Our 24/7 team is always here to help and offer you a free, no-obligation quote for your personalized bus rental.
Seamless Greek Life Transportation
When it comes to participating in Greek life, the last thing your brothers, sisters, and alumni will want to worry about is navigating traffic, circling the parking lot for an open spot, or figuring out how they'll get home afterward. Ease traffic flow in and around your rush event, social, fundraiser, or reunion with a private shuttle service, and everyone will have a dedicated driver to take them everywhere they need to be. No more waiting for a string of rideshares or taxis after a long night—just hop on the bus and enjoy your time together!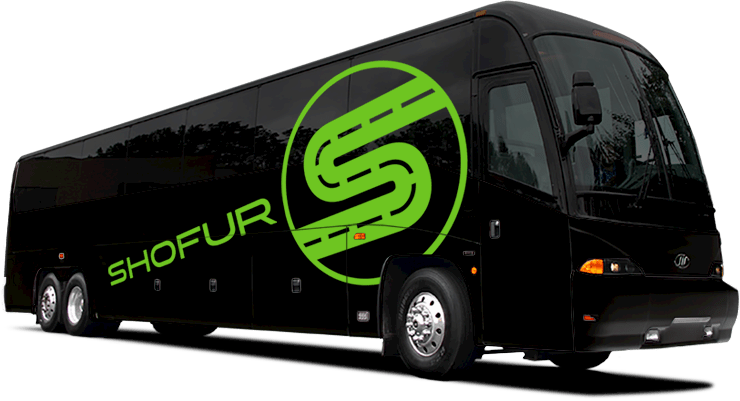 Stress-Free Freshman Orientation Shuttles
Between advisor meetings, paperwork shuffling, building tours, and social events, your new freshmen already have a lot on their plates. Set up a shuttle circuit to loop around campus or reserve a few buses to serve specific colleges and organizations, so your incoming students won't have to sweat the ride to every freshman orientation event on their itinerary.
Custom Fleets for Any Campus
Whether you're a small college in a remote location, a sprawling campus over many acres, or an urban university with buildings across multiple city blocks, let us pair you with a fleet that best suits your institution and student body. Our bus network includes coaches big and small—from zippy sprinter vans and 20 passenger van to multiple models of 56-passenger charter buses—so our team should have no trouble assembling the perfect fleet to match your campus's transportation needs.
Ride to Campus in Total Comfort
Beyond allowing you to customize the size and makeup of your university's fleet, our expansive network of coaches also lets you treat your students, faculty, and visitors during their travels. Be sure to request amenities like free WiFi, power outlets, TVs and DVD players, and reclining seats when you call 1-800-436-8719 to book, and we'll ensure your rental includes all the small comforts to make the ride more enjoyable.
Safe and Reliable Bus Rentals
We understand that the safety of your students and staff is your top priority. Rest assured your driver will be a seasoned professional with up-to-date licensure, a clean driving record, and all the experience they'll need to keep your campus transportation running smoothly. On top of that, all the vehicles in our network are well-maintained and updated with all the latest safety standards—so no one has to worry about breakdowns between classes!
Ongoing and Long-Term Rental Plans
Whether your student body and faculty need a lift to a far-flung parking lot while your campus is under construction or you're simply looking to expand your campus' transit options, Shofur is here to help. Just let us know how many people need a ride and for how long, and our long-term reservation team can draft up a contract that includes all the shuttle services you need at a fixed, predictable rate.
Reserve Your College Bus Rental Today
Let Shofur handle the transportation so your students and staff can focus on their studies, research, and extracurriculars. Our reservation team is available whenever you need us to connect your institution with an efficient and reliable minibus or charter bus rental—all you need to do is call us at 1-800-436-8719 to get started!