Wedding Bus Rentals
Considering renting a wedding shuttle service? We're here to help. With a dedicated 24-hour reservation team and a wide selection of coaches to choose from, Shofur is your go-to provider for comfortable and stress-free wedding transportation.
Call 1-800-436-8719 to receive a free, personalized quote for your wedding travel plan!
Buses for any wedding
Our nationwide coach network means we (and therefore you!) can easily assemble a fleet that best suits your wedding day needs. You can request everything from features like ADA-accessibility to the make and model of the bus itself.
Worried your out-of-town loved ones will get lost between their Brooklyn hotel and the venue in Manhattan? We've got a zippy minibus shuttle service with your name on it—one that's nimble enough to navigate crowded New York City streets, but also roomy enough. We offer both a 12 passenger sprinter van and a 18 passenger minibus rental.
What if you have your heart set on a ceremony in downtown Houston and a reception at a ranch outside the city? Never fear, because we can set you up with as many full-sized charter buses as it takes to safely transfer your guests between venues.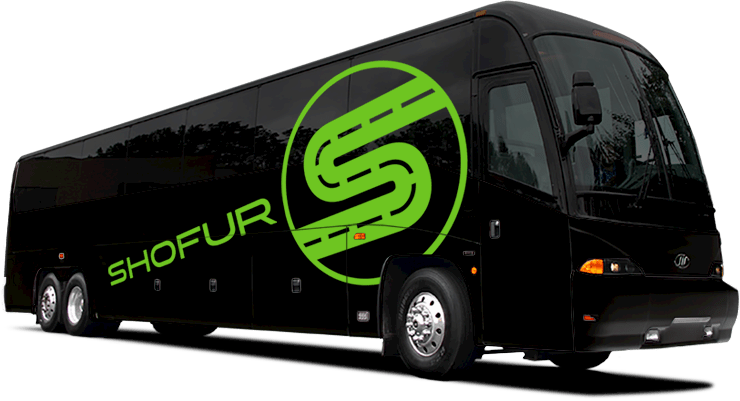 Keep your day running smoothly
Your wedding is supposed to be a day to celebrate love and new beginnings... not to stress out because half your wedding party forgot where the venue is. Luckily, with a Shofur wedding shuttle, you won't have to worry about anyone arriving late, struggling to find parking, or getting lost. You decide the schedule and where your buses take your guests, so everyone arrives all together and on time, no matter what.
Treat your guests with comfort
Personalize your shuttle with all the comforts your guests could want on the road. They can pump up the party jams over the free WiFi and onboard entertainment system, charge up their cameras with individual power outlets, and kick up their heels in a reclining seat after a long night of cutting a rug—all from the comfort of their private wedding shuttle. Just let our team know what amenities you want on the bus when you call 1-800-436-8719, and we'll be happy to make it happen for you.
Easy rides to every event
Of course, your transportation needs don't always start and end on your wedding day. That's why Shofur offers wedding shuttle services for any event on your nuptial itinerary. From airport pickups for your relatives' ride to the rehearsal dinner to bar-hopping shuttles for your bachelor or bachelorette's last hurrah—we'll take care of the travel logistics so you can get back to enjoying your time together!
Get home safely
On your big day, the last thing your guests will want to worry about is whether or not they should have that extra glass of champagne. With a professional driver behind the wheel, no one has to sit out on the fun and no one has to wait around for an Uber or Lyft. Rest easy knowing every guest has a reliable ride home at the end of the night.
Simplify your wedding day travels with a bus rental
Whenever you're ready to get moving on your wedding day, you can trust Shofur to make it easy, whether you're going all-out in Los Angeles, partying it up in Atlanta, or keeping it simple in your hometown. Our team is available 24/7 to answer your questions, give you a run-down of your bus rental options, and offer you a no-obligation quote. Give us a call at 1-800-436-8719, and leave the logistics to the professionals.