Charter Bus Rentals for Sports Teams
When it comes to traveling with your sports team for away games or tournaments, you'll be prioritizing safety, vehicle storage, and keeping to an organized schedule. With Shofur, you can book a spacious and comfortable charter bus rental with a skilled and professional driver at the helm for your sports team transportation.
For sports team charter bus travel, we recommend booking your bus at least six months before you'll need it. The schedules of drivers and motorcoaches fill up, especially during the spring and summer busy seasons. However, if you do need a last-minute rental, we can do our best to find you a quality charter bus. Call us at 1-800-436-8719 and let us know about your team and your trip itinerary. We'll find the best bus to fit your needs!
For Professional and College Teams
The most important thing for professional and college athletes while traveling is their health and safety. You want your athletes to show up to the game well-rested and ready to win! With a private charter bus rental, your team will have access to premium amenities designed for optimal rest and relaxation while in transit.
Consider a 56-passenger motorcoach to transport your entire team, coaches and staff all in one ride. These buses come equipped with climate control, extra legroom, and onboard restrooms for optimal comfort. Athletes can choose to recline their seats and grab some extra sleep or use free Wi-Fi and power outlets to keep connected with fans and family on their smartphones.
Whether you need transportation for a state tournament or a whole season of games, you might as well do it in style! When you call, ask about having your bus wrapped with the team's colors, mascot and logo design. Your reservation specialist will let you know about the logistics required for wrapping and unwrapping your charter bus rental.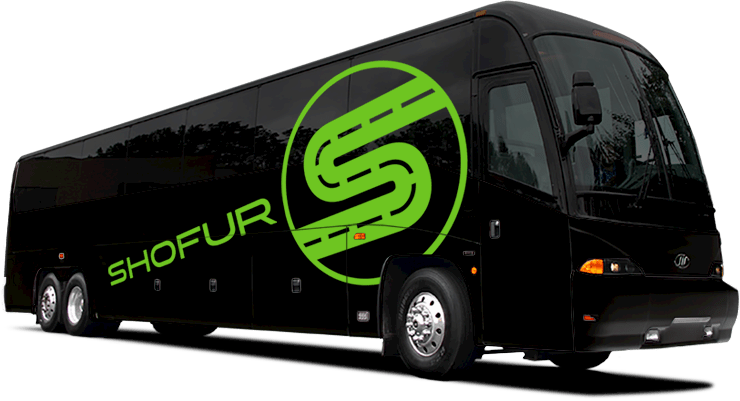 For Club and Travel Leagues
Club and travel sports teams are always on the road for games, so you'll always need reliable transportation. This season, why not book reliable transportation for every away game on your schedule? Parents of your youth athletes will be grateful for a break from arranging carpools, and you can keep everyone together and traveling on time.
Undercarriage luggage bays and overhead storage on the bus will be spacious enough to hold all of your team's gear, so don't think you need to leave anything behind. Load up your soccer nets, baseball bags, football helmets, lacrosse sticks, and anything else you need. Onboard, pack a cooler filled with ice, cold drinks and fresh fruit to stay hydrated and stave off hunger on the way. Between your charter bus's extra space and optimal comfort, this season's travel will be the most efficient yet.
For Traveling to Tournaments
State and regional sports competitions may take you and your team beyond your hometown to compete against the best of the best in NYC, Atlanta, or San Francisco. You'll want to show up fresh-faced and ready to fight!
High school athletes will appreciate trading the cramped yellow school bus for a spacious charter bus. There's no need to share seats with heavy equipment bags when there's plenty of storage space below the bus and above the seats for baseball bags and volleyball nets. While en route, athletes and coaches can use the onboard DVD player and TV screens to review past games or study videos of their opponents' strategies. If you're expecting a long journey, you'll want your team to take advantage of all a charter bus has to offer.
For long-distance travel, a private charter bus is an option for the budget-minded. The cost is relatively inexpensive compared to air travel, and your team has private transportation from the hotel to the sports venue. You can also use your charter bus to travel to city sights and restaurants when not competing. Discuss with your driver beforehand how many rest stops you want to take and where to stop so everyone can grab a nutritious bite to eat and stretch their legs. If you'll be traveling overnight or attending a multi-day tournament, remember you'll need to book a hotel room for your driver too.
For Family, Fans and Tailgate Parties!
Where there's a sports team, there are fans! If you can't pile in with your child's youth sports team or are on the road following your favorite professional or college team, rent your own private charter bus for the ride.
You can easily reserve a minibus to tailgate a college football game or head into downtown Boston or Los Angeles for a Red Sox or Lakers game. Your charter bus rental will have plenty of storage space for coolers, folding chairs, umbrellas, portable grills, lawn games, and anything else you need to make your tailgate an epic one.
You can also keep a cooler on board filled with cold brews and seltzers to get the party started early! However, make sure to confirm with your reservation specialist and charter bus provider before you bring alcoholic beverages on board, because laws vary between states.
Go For the Gold with Shofur
With Shofur, securing reliable transportation to and from games is no sweat off your back. We have access to safe and spacious charter bus rentals with professional, skilled drivers who will make sure you get to the game on time. Our reservation specialists are available 24/7, so call us at 1-800-436-8719 to plan travel to your next game. Leave the travel logistics up to us so you can stay focused on the competition!