Charter Bus Rentals for Private Trips
Whether you're planning a family reunion at a Los Angeles beach or a trip to Bonnaroo with a huge group of friends, a charter bus can help your trip go smoothly. Flying with a large group is expensive, and carpools with dozens of people are affordable but not exactly fun. You probably don't want to spend eight hours driving or crammed into a middle seat with no legroom.
Shofur has access to a wide range of charter buses with optional features like reclining seats, televisions, and free WiFi. Just give us a call at 1-800-436-8719 to let us know how many people you're bringing and what your itinerary looks like, and we'll find a bus that fits your needs.
For Family Reunions
If you have members of your family who can't drive because of age or disabilities (or who just don't want to), a charter bus offers an affordable alternative to plane tickets. You can request an ADA-accessible bus with features like wider aisles and a wheelchair lift, and climate control and plush seats will help everyone in your family stay comfortable during a long drive to Disney World or a road trip into New York City.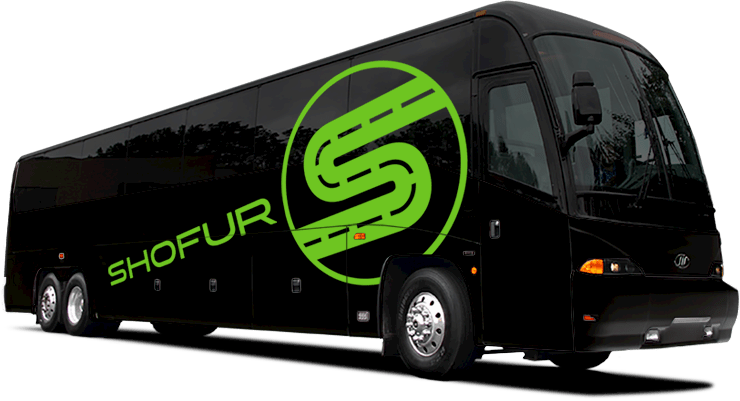 For Religious Groups
Shofur is honored to help members of any religious group reach holiday celebrations or volunteer events. Need a shuttle to take parishioners from an off-site parking lot to weekly services? We'll schedule a minibus for you on a recurring basis. Looking for a large charter bus to carry your youth group to a retreat? We can find one with TVs and DVD players so kids won't get bored during the drive.
For Scouting Troops
If you're headed to a massive scouting convention or setting off on a camping trip, Shofur can help your troop get there safely. Our undercarriage storage bays have plenty of room for tents, cooking equipment, and large backpacks, and some buses also come with power outlets so your scouts can charge their phones and stay in touch with their families.
For Groups of Friends
Does anyone look forward to being forced to drive to Coachella, Dragon Con, or spring break at the beach? Let Shofur save you and your friends from fights over whose car to take. Split the cost of a minibus among your group, and you'll have a professional driver to transport you to the festival or convention each morning and back to your hotel at night. Your driver will also serve as a guaranteed DD, so you'll be able to savor craft beer or fruity cocktails without worrying about paying for a bunch of Ubers or Lyfts.
Shofur Has You Covered
Our experienced team is available 24/7 to walk you through renting a charter bus for your camping trip, tree-planting event, or comic con. Once you've created an itinerary and know how many people you're traveling with, give Shofur a call at 1-800-436-8719. We'd love to help you plan your next private group trip.