Why Your Business Needs a Corporate Shuttle Service
Corporate shuttle services have long been popular with Silicon Valley organizations like Apple, Facebook, and Google who want to attract top talent. With the advent of the COVID-19 pandemic, many companies who previously didn't offer shuttle service are considering doing so, since exposure to large groups of strangers has become dangerous.
So how do you know whether your business needs a corporate shuttle service? At Shofur, we've provided employee shuttles before, and that's helped us figure out why companies might want them. Here are a few reasons.
With a shuttle, you're in control.
Public transportation is good for the environment and spares your employees the stress of driving. But it doesn't give you or your colleagues a lot of control. If the bus is running late or there are no empty seats on the train, there's nothing you can do about it.
With a private employee bus, you can set the schedule and the route for your shuttle. Your company can even decide whether you need a full-size charter bus that simply picks people up, takes them to your workplace, and then carries them home at the end of the day or a minibus that runs on a continuous loop from the parking lot to your work campus.
You also control the cleaning and sanitation procedures on your bus. You and your coworkers will only be exposed to each other during the trip, and you choose whether everyone has to wear a mask or have a temperature check before they get onboard. We also ensure that all buses are regularly cleaned and sanitized to make them safer for your group.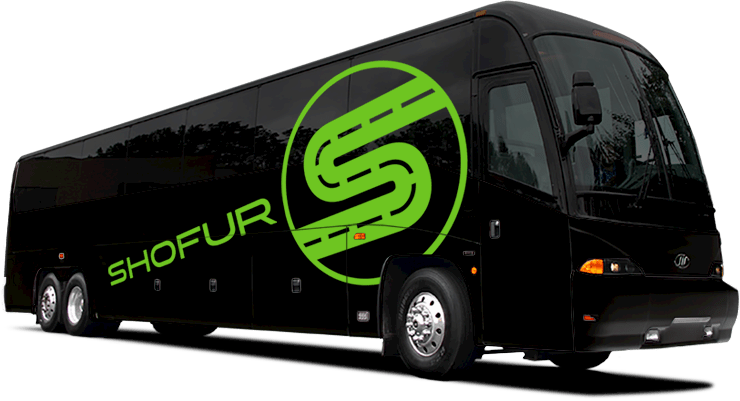 Driving is bad for the environment and for employees' health.
If you live in a commute-heavy city, like New York, San Francisco, or D.C., you know how stressful commuting can be, especially by car. You may not have to deal with crowded public transit, but you have to deal with traffic, and you can't read a book or check your email while you travel.
All that stress isn't good for employees–it can cause back pain, headaches, fatigue and high blood pressure, per Scientific American. Long commutes aren't good for cars or the environment, either. Car parts wear down more quickly, and all of the exhaust damages the environment.
If public transportation isn't an option for all of your colleagues, because you don't live near it or because it's not safe during COVID, a shuttle service is easier on both people and the environment. A professional will take care of the driving so you and your coworkers can lean back in reclining seats and check your email with WiFi (both the seats and the WiFi are available by request.)
Charter buses can also help protect the environment. Although most of the buses in our network aren't yet electric, they can hold up to 56 people each, and they produce less CO2 than 56 non-electric cars.
Shuttles are more accessible.
Train and bus station accessibility varies widely from city to city and even from neighborhood to neighborhood. But when you request a shuttle, you can request the accessible amenities you need. Shofur has access to ADA-compliant shuttles with wheelchair lifts, wheelchair seating, wider aisles, and handrails along the stairs.
You can also take advantage of amenities that make everyone more comfortable, such as extra legroom and air-conditioning. Overhead storage space provides ample space for backpacks and laptop bags so employees can stretch out their legs or store their mobility devices in the space in front of them.
Shuttle service attracts top talent.
If you live in a rapidly growing city like Denver, Atlanta, or Houston, you know that you have to compete with a ton of other companies to find talented new employees. Most businesses offer health insurance, snacks, and laptops, so you'll need a way to stand out.
A private shuttle service is a great option. It will appeal to new employees by letting them live in an area they can afford without spending an hour commuting to the office, and it will help current employees arrive at the office relaxed and ready to work. You and everyone you work with will be healthier and therefore more productive. And if you really want to impress your new engineers or salespeople, you can throw in bonus features like onboard power outlets to charge their laptops and tablets.
Organize an Employee Shuttle Service Today
Considering an employee shuttle for your business? Give Shofur a call at 1-800-436-8719, and we'll help you find a shuttle with all the amenities you need. You can have comfortable transportation that runs on your preferred route and schedule, helps your employees relax, and is safer than public transit during the pandemic. Call us today to set up a long-term contract that works for you.